Guided by Principle
School improvement is complex, but our Theory of Change provides a framework for moving through the process. If we're going to change student outcomes, we need to enhance their learning experiences, as well as the practices that adults use in the classroom. Professional Learning Supports provides schools with ongoing, job-embedded opportunities to continue refining instruction.

Thought partners, not trainers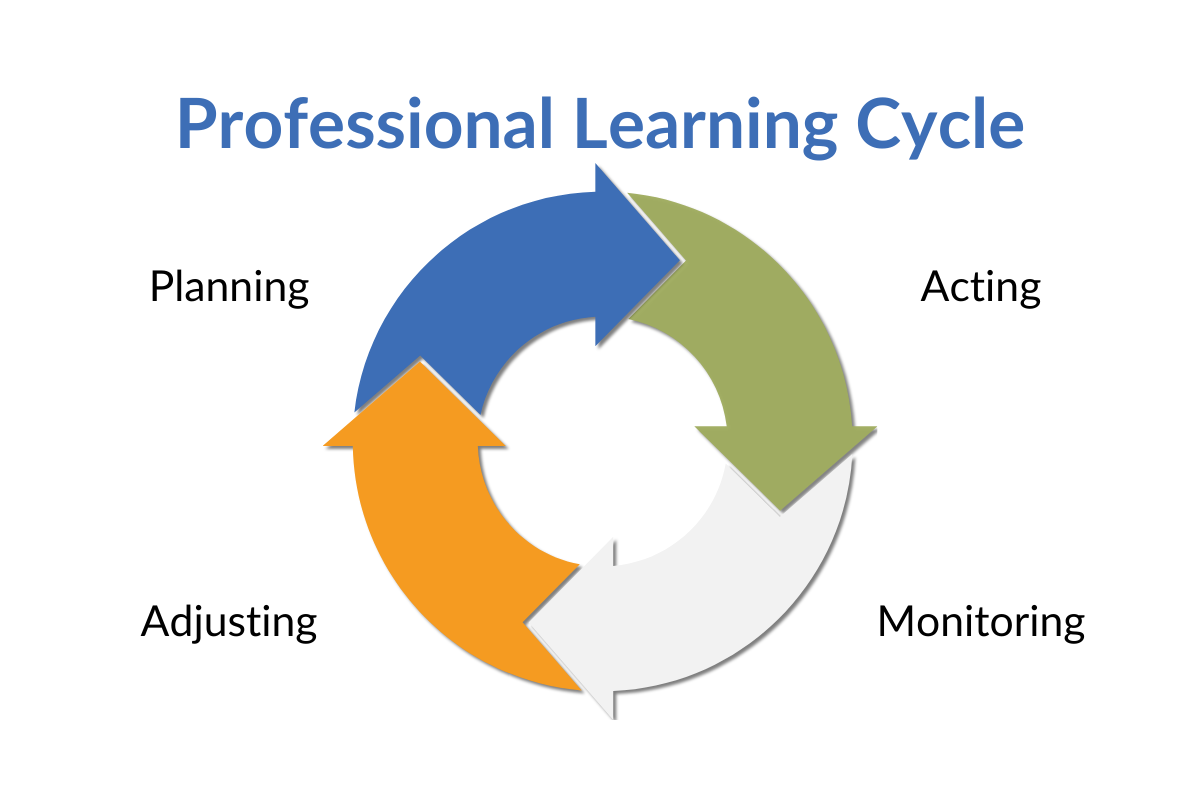 Formal professional learning sessions are just one part of a continuous improvement cycle, and the direct supports we provide to teachers reflect that.
We don't do "one-and-done" professional learning sessions.
We partner with stakeholders at various points in the improvement process to support them in:
---
Sample pedagogy areas include:
Quality Questioning Practices for the Classroom and Assessments
Brain-compatible Learning and Student Engagement
Designing Student-to-Student Interactions
Effective Feedback Strategies
Design a Theory of Change. Together we partner with leaders to lay out their own Theory of Change – to identify the target student outcomes, the student experiences that will promote those outcomes, the refinements in pedagogy that need to be made, and the professional learning supports adults will need to make those changes.
At each point, we help develop and/or select the measures that will be used to determine whether the work has been successful.
---
Acting
Put the plan into action. In this phase, we use a two-pronged approach:
provide formal and informal professional learning, and
build the capacity of instructional leaders to do the same.
Likewise, we provide the ongoing and job-embedded coaching for both leaders and teachers that helps ensure quality implementation.
We support teachers by…
Facilitating small- and large-group formal professional learning sessions
Providing ongoing and job-embedded instructional coaching in support of the target practices
Providing supplemental readings and asynchronous learning opportunities to enhance understanding
We support leaders by…
Co-designing a professional learning plan
Co-planning professional learning sessions (such as faculty or team meetings) to supplement and deepen knowledge
We empower leaders to support teachers by…
Providing targeted supports to craft, practice, and implement reflective feedback conversations.
---
Monitoring
Gather results and continue supports We work shoulder-to-shoulder with our partners in gathering credible and actionable data around the agreed-upon metrics. These metrics often include short-cycle student outcome data and classroom visit data. The goal is monitor in order to support the adults as they implement new learning into practice.
We support leaders in this phase by…
Identifying and/or developing data collection tools for the agreed-upon metrics
Providing training and/or calibration supports in using data collection tools
We support teachers in this phase by…
Assisting in data collection
Providing feedback to teachers
---
Adjusting
Reflect on the experiences. What worked? What didn't?
We examine the data together (as leadership teams and teacher teams) and identify the specific practices and supports that should be started, stopped, or kept as a result of what's been learned. From here, the cycle begins anew – we collaborate to adjust the working Theory of Change to support continuous improvement of teaching and learning.
Let's Get Started
To schedule a consultation and begin outlining your professional learning supports, contact Anissa Collins, Director of Instruction.