Guided by Principle
School improvement is complex, but our Theory of Change provides a framework for moving through the process. If we're going to change student outcomes, we need to enhance their learning experiences, as well as the practices that adults use in the classroom. Regular classroom visits with meaningful feedback are essential supports for strengthening those practices and students' learning. That's where our Classroom Visit Protocol plays a vital role.

Measure What Matters
Vetted by third party researchers, our classroom visit protocol is predictive of student success on high-stakes assessments, and provides credible and actionable data around key components of effective teaching and learning:
During a 20-minute visit, visitors look at 15 vital signs of instruction, including:
Whether students are actively Engaged in the learning
Whether the content Aligns to standards, local curricula, and prepares students for the types of thinking needed on high-stakes assessments
Whether strategies and materials are appropriately Rigorous, whether students' knowledge and skills are formatively assessed, and what steps are taken in response to that formative assessment
Data from each 20-minute classroom visit are recorded in our secure online platform. Results are reported as the percentage of classroom visits that meet each indicator for a department, grade level, school, or district.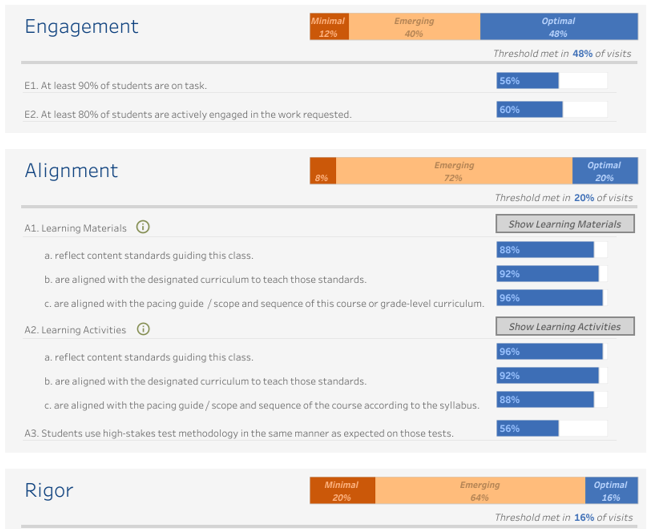 ---
Make an Impact
For school leaders, the data provided from the protocol:
Facilitates richer and more focused data-guided decisions about supports provided to educators
Gives a "third point" of data to facilitate coaching and feedback with individual and teams of teachers
Informs the planning and evaluation of professional learning opportunities and instructional initiatives for faculty and teams
For teachers, the data provided from the protocol:
Facilitates formative feedback for improving classroom instruction
Establishes a common language and lens for discussing instruction with colleagues and leaders
Builds a culture of instructional improvement focused on reflection and growth as individuals and members of a learning community
---
Two Ways to Engage
System Snapshot
Our team visits your site and conducts classroom visits in the scope we collaboratively define. Data are reported to you, and we think with you about charting a path forward for your system.
Capacity Building
Our team trains and certifies instructional leaders to conduct classroom visits, interpret the data those visits yield, and give effective instructional feedback on an ongoing basis. You collect the data — we think together about how to best move forward.
Let's Get Started
To schedule a consultation to determine how the Classroom Visit Protocol can best serve your needs, contact Anissa Collins, Director of Instruction.
IRRE's Classroom Visits protocol is a game changer. Administrators, after intense calibration training, walk through classrooms with an entirely new lens. The tool allows you to collect data of what is happening with students rather than focusing solely on the teacher's instructional moves. The data gathered has allowed our teachers to have in-depth dialogue about what works for our students.
Carol Anthony
District Leader
Michigan